Jeanne Savage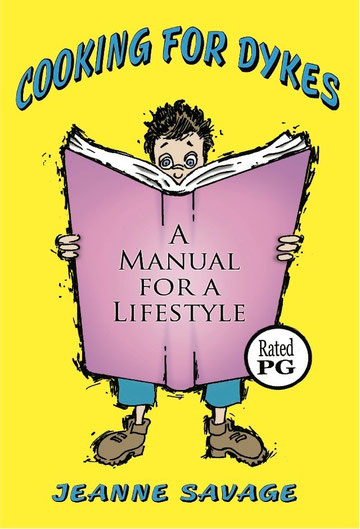 New Release Puts Humorous Spin on Life in the Kitchen
Cooking for Dykes: A Manual for a Lifestyle
by author Jeanne Savage
This tongue-in-cheek book has it all, blending fact and fiction into a work that serves as a memoir, essay, collection of short stories, how-to and, finally, a cookbook. Readers will find that recipes are not all the author serves up in this humorous look at life and love. Savage's cartoons and artwork lend further humor to this groundbreaking creation.
Although Cooking for Dykes is not a traditional cookbook, it offers tips for neophyte cooks to those more experienced in the kitchen, featuring a variety of edibles cooked from scratch, like the "Is She Or Isn't She Burger," "Couple Fusion Pea Soup" and "Stonewall Pork Chops." The author intersperses suggestions for growing herbs with short anecdotes of events in her life. Gathered from life experience and her mother – who could cook Spam 16 different ways during World War II – the gems the author serves up offer practical advice for such things as saving money by making your own yogurt to using acupressure to reduce pain.
Author Jeanne Savage dropped out of high school when she was 16 and had jobs ranging from switchboard operator to messenger to showgirl. Forty-two jobs later, while working full-time in a hospital, she enrolled in college. Graduating at age 53, she became a registered nurse. For six of her ten-year nursing career, she was a head nurse in a mental facility. After retiring, Savage took art classes, sold paintings and served on the board of directors of a Cape Cod art guild. She then joined various writers' groups. Their critiques have helped another author come out of the closet.
----------
Cooking for Dykes: A Manual for a Lifestyle
Available at Ingram, Amazon.com,
Barnes & Noble and fine bookstores everywhere.
Jeanne Savage Dog Ear Publishing ISBN: 978-145750-276-7
144 pages
email: words(at)jeannesavage.com
blog: www.driveucrazy.com