Sebastian Mudry
Listen to the voice of this tree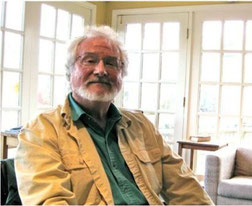 It's the time of year we cut down a fir balsam, transport it on car rooftop, set it in a stand filled with water, and luxuriate in the aroma of fresh pine. Why then does one tree haunt me?
This tree was not meant to ever be brought down by the hand, or rather the chainsaw, of man. The black walnut towered over a fifty foot span of our absent New Jersey neighbor's front lawn, canopied generations of childhood picnics, from the Chase's of West Harwich to our grand niece's. Seven year old Jessie's favorite, she would climb into the tree's arms, become cradled in her lower branches.
Not a hint of disease in 130 to 150 years (I get a variable number when I count rings). 
A century and a half of glory could give a healthy tree respect, admiration. From us she earned affection, awe. 
Is it so silly to miss a tree? 
What's maddening is how this living, breathing magnificence was felled in all innocence, by duplicity and greed.
A tree may have a voice, if we might only hear.
I was fifty seasons strong when the Chase ones planted here. They used trunks and branches of my cousins to frame up the walls and to sheath the dwelling. 
I was afraid they'd cut into me or cut me down, but I heard whispers of beautiful, always, build around her, our anchor. I felt safe. The tips of my fingers reached down to touch and tickle all who moved beneath me. 
In the hundred cold-times since then I saw, felt and heard high winds from storms, hurricanes, blizzards that blanketed me in white, and darkened the lights so I could see the stars like I could when I was a twig, a hundred and fifty cold-times ago. I bent, swayed, danced, never breaking. 
The ones next door were a little joy, along with the chickadees and nuthatch that nestled, slept, and nested, in my arms.
Chipmunks, squirrels, foxes, and deer, scampered away with my dropped seeds, murmuring sweet, delicious. A few looked up to thank me for these gifts that sustained them. 
This season I was as healthy and vital as when the Chase family built around me. I breathed in carbon dioxide and exhaled oxygen, soaked in the sun to make sugars to feed me. I fed the world around me with shade, and had what the breezes called beauty, grace, a spirit, majesty, a presence.
I heard harsh rustles around me, heard disease, power line through branches, winter threat, we cut down trees, make a living. One even accused me of being a locust tree. 
One of the moving roots put down the buzzing thing. The last voiced from this one was, don't. Not right. Healthy, Strong. Wrong. 
The one who called me diseased, a locust, did not listen.
Listen to the voice of this tree, appeared in the Cape Cod Times, Sebastian Mudry, guest columnist. Go to (capecodonline.com) for a link.    
Contact: sebastianmudry(at)comcast.net
Danny Behind the Door
            Danny hid behind his bedroom door. Lips tight, jaw rigid, eyes unblinking. Clenched in his hand, a zip gun.
            "What's wrong? What's going on?" 
            He looked at me, blinked furiously, pointed around the corner of the door frame, down the hall toward the front door.
            "They, they, pound the door ... follow me home ... me I run ... run  home ... bang, bang ... the door... " 
            I checked the outside of our front door. Dents, valleys where the full force of flying sneakered feet met metal, dimpled but sound. "You're OK, you're OK now." I was wrong.
            It was the last time Danny went to the new school on Baychester Avenue. He would not leave 3B. 
            Our mother found a way to have him home schooled. A tutor came to our apartment. She worked with Danny on weekly tasks, checked his progress. Helped Danny through rough spots ... 
            I snuck a peek inside twelve year old Danny's black and white marble notebook. Frenzied drawings, scribbles. One stood out.  A crude globe with cartoon bubbles. "Sick world, sick people," in each of the bubbles, all 'round the earth.
                                                            ----------------
            Edenwald had become a "war zone" after a decade of racial and gang-free peace. If you had a fight, it stayed in the playground, on the sidewalk. No gang chased you home. No one was armed. 
            Four years before Danny Behind the Door, we did not have zip guns. Now all knew how to make one. Unbroken car antennas were rare. They were the core of a crude weapon. 
            One metal car antenna, sized with a hacksaw blade, sanded to smooth out burrs, cradled a .22 caliber short, a piece of pine as handle, enough rubber bands to fiercely grip the barrel, more rubber bands for the bent nail that acted as detent-trigger-firing pin. Single shot. Some fired once. Unknown numbers injured the gun maker. Danny's was cocked.
                                                            ---------------
            Four years ago Danny was the one who brought presents home to our mother. 
            Leaves, a stone, a dead butterfly. Proudly cupped a pocketed spring peeper, held in hands as brown as the mud puddle of the vernal pond from which he scooped it. Dandelions and Queen Anne's Lace were placed in a jam jar, centered on the Formica top of the kitchen table.
            Danny transformed from explorer to brittle star. He still took things apart, a radio, an old telephone, anything with wires. Indoors he was safe.
            Thin skin, pale from this inside world, became near translucent, while we, his tanned older brothers, were thick melamine, the unbreakable pink stuff that we ate off of.
            He was buffered from the knees and elbows of the external world, but day and night terrors visited where there had been a sweet sneak of a boy.
                                                            ---------------
            We're fishing upstate with Uncle Metro. Everybody's favorite, Metro (sounds like meetro) drives us to Kensico Dam and beyond. We try earthworms to tempt what swims by. His instructions: "Wait 'till the bobber dips, no, wait until you see it dip under, now, raise the tip of your pole, set the hook."
            Five kids, three brothers, our two cousins, Metro's daughter Stephanie, stepdaughter Janie, each with a bamboo pole. 
            Five minutes later Janie drops her pole onto the bank. She studies dragonflies, water skimmers, looks up at clouds, reaches into a jar, bites down on a pickle. The rest of us land six inch whoppers and not so whoppers half that size.
            We catch and release, dazzled by the flash as they  splash away. Re-catch them or haul in naive brethren, release, until we have our fill of fat sunfish and slim yellow perch.
            Smiles all around, we unwrap our sandwiches at bankside, wash our hands like raccoons, and munch away. Janie's sandwich is tall with pickles and ham, ours with ham and cheese, mayonnaise, no pickles. 
            Laughter escalates with the size of our catch, Janie the exception, as each brags: "I caught the biggest one." "I got the biggest." "No, I got the whopper." "No, me ..." 
            We're filled with ourselves and the delicious fatigue of a full warm summer day as we board Metro's jalopy. It has a lingering aroma of dog, 'though Spike is home.
            We doze off in the repetitive rocking of the car. Halfway home, Metro veers to the side of the road, whips onto the shoulder, stones kick up, gravel crunches, he brakes hard. Now we are awake, alert. 
            "What smells so bad? Whew. Gawd. What STINKS in here?"
            "Not me," the chorus. He hauls us out of the car, sniffs around each one. Metro zones in on the youngest. A car without AC and the heat of the day conspire to give him away. "OK, Danny boy. WHAT. Is in your pockets? Turn 'em out, inside out." 
            From one pants pocket out pop two ripe three inch crappies, another, a perch. A back pocket hid something squished and scaly, a pan fish pancake.
            "Why? ... Why?" Metro implores. 
             "I wanna show my mudda."
Danny Behind the Door, excerpt from Son of a Thief, Sebastian Mudry
© December 23, 2013
My memoir, Son of a Thief, will be released in 2019.
Interested agents or publishers are welcome to contact us.
We Rising Tide Writers want to be discovered: one or more of us may become your next bestseller. RK R watch out!
Email: sebastianmudry(at)comcast.net
Sebastian Mudry is a graduate of Evander Childs High School,
Hunter College in the Bronx (BA, Psych major), University of Connecticut (MA, Developmental Psych), University of Massachusetts, Amherst, (EdD, Counseling). He taught psychology at Manchester Community College for more than three decades, and did group co-therapy and individual therapy for a Manchester, Connecticut, psychiatrist for over a decade.