Barbara Leedom
A gardener of words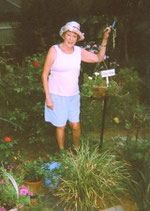 I pledge allegiance to homegrown tomatoes and to the garden in which they stand. One garden, no gods, with peace and quiet for me.
Writer of stories, novels, articles, poems, newsletters, brochures.
Gardener of tomatoes, dahlias and whatever's on sale.
Member of Rising Tide Writers, Cape Cod Writers Center, Grub Street. 
Fallsboro, 2001, novel manuscript awaiting publication. Scroll down to read Chapter 1. 
Cranberry Cove, For the Love of Broccoli, two novel mss. written with co-author William Richmond. 
Barb's website is  http://capecodwriters.squarespace.com/
You may also contact her at bleedom(at)gmail.com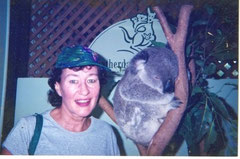 Chapter 1, Fallsboro 2001, a novel
        No one knows how Fallsboro got its name. There are no waterfalls in Fallsboro. Town historian Jeanette Powers pronounced at town meeting in 1969 that she had done considerable research, way beyond what she was paid for, and could find no documents about why Fallsboro was named Fallsboro. Now in January, 2001 she's still researching. When schoolchildren ask Mrs. Powers why Fallsboro is named Fallsboro she says, "It's a mystery, but I'm working on it."
          The oldest part of town dates to the late 1600s. It has a Common with an 18th century gazebo and 17th century stocks. The gazebo is kept in shape and painted yearly by members of the Parks and Recreation Commission. Fallsboro mothers used to scare their children, telling them what punishments were like in the old days.
          "Imagine what it must be like to have your arms and legs stuck in those little holes for everyone to see." Or: "If you don't behave, I'm going to see you in those stocks for a whole day." Or: "It was harsh punishment, but it worked. Folks back then didn't steal again after they spent a day in the stocks."
          Nowadays Fallsboro mothers don't say such things. They fib and say things like thank goodness times have changed, and people who break laws are treated better. Mothers say such things, even though, in Fallsboro, most mothers have no idea how people in prisons are treated.
          White houses with green, black or gray shutters surround The Common. They rarely fall into disrepair, but if one does it's because the owner is old or ill or both. Then real estate agents pounce and prospective buyers swoop in. Owning a home on Fallsboro's Common is coveted.
          St. James Anglican Church sits on a knoll at one end of The Common. The First Congregational Church is opposite St. James. Anglican Priest Richard Dixon and First Congregational Minister Edward Whelan meet for coffee on Wednesdays to chat about their flocks. Gossip really. They don't discuss their faiths. Father Dixon suspects Reverend Whelan has some questions. It's only a suspicion, but he spied a book by that atheist Bertrand Russell on the back seat of Ed's car.
          Streets leading from The Common are lined with stout old homes, some with front porches with Adirondack chairs rarely sat on. Their owners are proud because they have the money to keep making repairs and because it's prestigious to live in this part of town. But it's not as prestigious as having a house surrounding The Common.
          Jess Jacoby lived in Fallsboro before her father left when she was seven. She and her mother live in Stamford. She cleans Fallsboro houses and is saving money for college. Some of her customers died, and she cried for them. Then she found all that cash in the Armstrongs' attic.           
          Alfred Jenkins has owned Jenkins' Pharmacy for thirty eight years. He says he'll go to his grave in the town cemetery before he'll sell out to one of those big chains. He's joined by hardware store owner Paul Williams. Paul says, "You pay a little more for screws and nails at my store, but our folks will. I give good service. You don't find good service, or any service, in those big factory-like stores."
          Edna Carter owns Books and More. It stays in business because people on the Village Green side of town feel sorry for her. Edna's husband got laid off from his job at the electric company when he was only fifty-five, and he hasn't looked for another job because it would interfere with his golfing. He helps out at Books and More when it's too cold to play golf but not as often as Edna would like. Their son, Mark, quit college after two years and joined the army. He learned how to shoot a rifle and drive a tank and spear dummies with a bayonet. He spent three days on the Iraq/Kuwait border during the Gulf War before he fell into a ditch and broke his left leg in three places. He was flown to an army hospital in Germany. For the rest of his two year stint, Mark's processed papers, stacks of papers, for the United States Army. He'd thought then the troops should have gone all the way to Baghdad and deposed its dictator. But then he read a statement from Secretary of Defense Dick Cheney when he was preparing to end his stint.
          "I would guess if we had gone in there, I would still have forces in
Baghdad today. We'd be running the country."
          Fallsboro has a run-down gas station that Felix Hargrave hasn't painted for twenty years. Scores of hours at town meetings have been spent discussing Felix's place. Felix does not attend town meetings, and he doesn't care what townspeople think of him or his gas station. It's the only one in town and gets plenty of customers. No one mentions the sorry state of Felix's property to his face except Sue Fuller. She constantly reprimands him, saying he should be ashamed of himself for letting his gas station "go to pot. You could at least plant some flowers and replace the gutters."
Felix grins at Sue, which drives her to distraction.
          People go to Stamford or Danbury to purchase appliances, get their woolens cleaned, buy their wines and spirits and get their pets spayed and inoculated. Most folks don't mind because they detest what sprawl had done to so many New England towns.
          A developer bought two old farms on the outer edges of town and converted them to streets and houses. Here homes are spacious and full of windows. Shirley Armstrong, who lives on The Common, calls them pretentious. Young families live in the two developments called Harmony Hills and Pink Valley Estates. Johnny Borrelli, plumber, makes a lot of money in these developments. It seems everyone wants to change the colors of their toilets.
          Across town ranch houses are on quarter-acre lots and are nothing their owners brag about. Many of the people who live here provide the services to the wealthier folks in the developments and near Town Common. 
          The Fallsboro Free Library is on Town Common. It was once a house owned by one of Fallsboro's founders, Nathan Dennis. It was a dark and silent place, kept that way by Florence Dennis, a great, great, great granddaughter of Nathan Dennis. The library is now brighter since Florence died. The new librarian threw out the purple drapes and had trendy white blinds installed.
          Jess Jacoby was introduced to the love of reading by Miss Dennis when she was in the first grade. It was a ritual for elementary school teachers to take their classes to the library four times a year. Miss Dennis extolled the everlasting value of books. "No computers or discs or whatever else is invented will ever give you the feeling of holding a good book in your hands," she told Fallsboro's students.
            Jess went to the library every week before Miss Dennis got sick and had to retire. Jess is a voracious reader, and the more she reads the more confused she gets. Miss Dennis told her it's not confusion, it's stimulation. Jess credits Miss Dennis for leading her to books on the world's religions, baseball and football, Plato, the Ku Klux Klan, Martin Luther King, Jr., ants and lions, Joan of Arc, Robert Frost and Nepal and Patagonia.
"A lot of things you may have read about Joan of Arc may not be true," Miss Dennis told Jess. "She was a loony who heard voices and had visions. Today we'd label her schizophrenic. And she wasn't fighting the English at all. She was fighting the Frenchmen who ruled Paris at the time. The king, Charles, wanted to rule Paris as well as the rest of his country. Joan was captured by the rulers of Paris and given to the English. That's the true story. Of course, we all know she was burned and became a heroine. Lots of people were burned at the stake and never got to be heroes. I don't know why Joan was a heroine, still is in some people's minds. So much bosh."
Miss Dennis was famed for seeing to it that her library had books by crackpots, bigots, reformers, entrepreneurs, movie stars, athletes, classicists, presidents and politicians. "You should look at many points of view," she'd tell Fallsboro students. She told Jess she ought to read about the Middle East because "we need to learn about those people and their religion. Like in Iran where the real leader is a cleric. How about that?" She introduced Jess to what she said was the greatest fiction. "Neither I nor anyone I know has finished War and Peace, but that's no reason why you shouldn't try. It took her two years, but Jess finished War and Peace.
          The old Catholic Church is now The Senior Center. Its former priest walked out one day seven years ago, and no one knows where he went or why he left. There was talk he got married to a widow from Hartford, but no one knows for sure. Fallsboro Catholics have to leave town to attend masses. The Senior Center is now a busy place. There's ballroom dancing twice a week, bridge, chess, backgammon and Scrabble every day, bingo on Tuesdays and potluck suppers on Sunday evenings.
          The Fallsboro Telegram is published weekly by James Dillon. He lives in Darien. James is five months on the job and knows what not to print. He prints the police log as it's always been printed in The Telegram. Rarely does the name of a Fallsboro resident appear in the log for a criminal offense. James fell asleep at a Board of Appeals meeting, and that was thought in poor taste by board members. They got together and wrote a letter saying so. James didn't print the letter in The Telegram, but he apologized to the members, and now he brings a thermos of coffee to meetings.
          Sometimes James thinks he would like to be an investigative reporter. Today, in dark January he was bored in his cubicle. He scoured old newspapers which he liked to do when he was bored. February 4, 1999, Jonnie Wise and Jack Abbot Grebe were sentenced to twenty four plus years for threatening to use blood tainted with the AIDS virus and rabies on people. What people the article didn't say. Those guys are members of some group called Republic of Texas (ROT), a secessionist outfit. James thought he would have liked to cover this story. He thought this for about five seconds. He liked to cover Little League and Pop Warner games. After Herbie's father was killed in the accident, James went to all of Herbie's baseball games. He and Herbie were buddies, now that Herbie's father was killed.  
          Fire Chief Bud Circe spends many hours washing and polishing Fallsboro's two trucks. His most exciting moment was when the clubhouse at the Fallsboro Country Club caught on fire. A mere sprinkle and it was out. Bud finally persuaded the board of directors to install new wiring. Chief Circe spends a lot of time at Fallsboro schools talking about fire prevention. He would like to make a video on fire prevention, and he thinks someday he may if he can learn how to operate the never used camera he bought two years ago.
          Fallsboro's kids are fed and clean, but there are exceptions. Some children eat too much junk food and are overweight. PTA ladies have been circulating petitions to rid the schools of vending machines that sell overpriced chips and candy.
          Jess talked to Herbie about junk food. The less he was allowed, the more he wanted. Jess told him that was true of most things in life.
          Bud Circe and Dom Carlotti, chief of police, get together at Pete's Pub in Stamford and talk about the people they are paid to protect. "They're a boring bunch for the most part," Bud said. "But we're lucky not to have the troubles the cities have."
          But Dom worries. There have been dozens or more articles in police journals alerting chiefs to be aware of a fellow named Osama bin Laden. Dom read that, in October, '98 this man had issued a fatwa that said Muslims should kill Americans and their allies, civilians and military.
"It is an individual duty of every Muslim who is able to participate," bin Laden was quoted as saying. Then came the bombings of the U.S. embassies in Kenya and Tanzania. Dom read transcripts of more declarations by bin Laden. He thinks New York City could be a target for bin Laden because he says it's the pulse of the nation. Many Fallsboro residents commute to the city. Dom has tried to discuss this with other nearby police chiefs and Bud Circe.
          "Nah," said Chief Palmer. He'd never get into the country. They have him tailed. They know he's a threat."
          "Yeah, but he'd send others. Think of all the tunnels and bridges. Think of all the ships and trucks and buses. One nut could shut down the city."
          Dom showed Bud a worn news clipping written by a scientist named Robert H. Kupperman. "Listen to this. 'Terrorists are undergoing a dangerous metamorphosis – from technological clods relying on fanaticism to skilled tacticians. The Reagan administration and its successor should prepare themselves and the public for devastating attacks.' This has haunted me for years. These guys are serious. It's only a matter of time."
          "Hey Dom, lighten up, will you. I have tickets to tomorrow night's Knicks game. Do you want to go with me and some of my guys?"
          "Sure." It was a good excuse to not be home with Greta.