Francoise Webb
"Boldness has genius, power, and magic in it. Begin it now." Goethe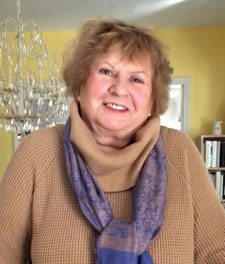 Francoise Webb is the published author and illustrator of seven children's books that received high praises from the New York Times and other periodicals. For fourteen years she designed fabrics and wallpapers for her own firm in New York City.
Born in Brussels, she came in live in the United States at age twelve with her mother, and later attended Virginia Commonwealth University in Richmond. She has lived on Cape Cod for twenty-five years and is a Letters member of the National League of American Pen Women.   
     
Her recently published memoir, Safe from the Madness, illustrated with family photos, depicts her early years spent in Nazi-occupied Brussels, and has been reviewed as "Charming and riveting."(Scroll down to read an excerpt of her book.)            
Souvenirs of Captivity, her next book, is her translation of the journal her grandfather kept while serving as a French Army Officer during the First World War. The poignant daily entries describe his life on the battlefield and as a prisoner of war in Germany. It will be published in early 2019.                    
She is currently finishing illustrations for her latest children's book, Carly's Summer in Chatham. It's the story of a three-years-old's magical vacation.

Francoise is also the author and/or illustrator of King Diddi the Eighth, The Comeuppance of Emile the Drummer, The Three-Wheeled Rocket, Six Brothers and a Witch, String Projects, The Building That Ran Away, and The King Who Was Different.
   
You may contact Francoise at francoisewebb@comcast.net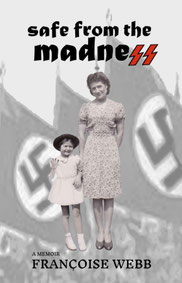 On September 3, 1944, late at night, as a small girl watched with her grandparents from the terrace outside their apartment, the Allies entered Brussels. "Take a good look, ma petite," her grandfather said. "This evening, you are truly witnessing a page of history."
Francoise Webb witnessed the Second World War from the safety of the family nest, while around her the Nazi madness spread through every aspect of daily life, making simple tasks dangerous and uncertain. She saw German soldiers force men and boys off the tram and into a waiting army truck, then witnessed her mother's bravery when confronted by their guns and dogs. She witnessed her family's fear on the night the Gestapo arrested her father. She witnessed a small moment of sadness in the face of the German officer who offered her some sweets from his pocket. And after la Libération, she witnessed the reprisals — dark, frightening, and gruesome. She witnessed, but did not always understand.
Now, with a lifetime of experience to guide her, Francoise Webb looks back to her childhood and writes of the Nazi occupation of Belgium, and of the three people she loved most, her mother and her grandparents, who kept her safe from the madness.
Excerpt: 
Safe from the Madness 
Chapter 12 
Descent into Darkness February 1944                                                                                                                                                                        
        One night, as the familiar sirens began their shrill warning, things changed dramatically. My grandmother announced she would no longer go to the basement, but remain instead in our apartment, surrounded by her books and the paintings she loved.
             "If a bomb should hit our complex," she explained, "we will be trapped under the rubble of a ten-story apartment building and perish slowly without any air, food, or water. You see, Alex, mon cher, this exact tragedy has taken place recently in London just a few days ago and was reported in yesterday's newspaper."
   "Ah, Mon Dieu! Please be reasonable, Alice," Papy begged, horrified.                 
         "Non, non, non. It's over, Alex. I just can't anymore. That's enough. Please forgive me." And as the relentless, alarming sounds of sirens tore into the night, she turned and walked away to their bedroom.                            
           Shaken, he reluctantly led Juliette and me for our descent into darkness.
           "Mamie, come with us! Mamie!" 
           But Juliette held my hand. "Oh, please! Stop crying and just think about the steps. Be careful. Don't fall down."
          Ahead of us, in the black stairwell, my grandfather, flashlight in hand, sounded bewildered, as with every other step he repeated her name.
           "Alice, Alice, ah, la, la, Mon Dieu. Oh, Alice. Ah, what a disaster." When at last we caught up with the elevator for our journey down below, I saw a tear roll down his unshaven face.
            It was on that cold night, huddled against Juliette in the dark, that, for the first time, reality appeared before me. Cloaked in horror, it whispered its simple revelation. I listened, and I finally understood.
            Death. It was death. We were hoping to escape death by hiding in the basement. Quite simply, we could all be dead within an instant. Poof. Dead. La fin. The end. Then what? Would it hurt? Would our own angels lift us out of the scary basement to arrive up in heaven moments later? Would Little Jesus greet each of us, give us our own cloud to sit on? Would we then be safe amidst floating angels playing music, like the paintings in church and at the museums? Troubled, I thought about all this most of the night, but I had just one more question. I tried waking up Juliette for an answer.
          "Ah, non," she mumbled. "Just go back to sleep."
          I wanted to ask Papy, but he was snoring in the far corner of our cubicle. So, I drifted off to sleep pondering the same things over and over. If the bomb fell and we died, would we arrive in heaven still dressed in our pajamas? Would the ladies still have their hair in curlers? Or would we be wearing beautiful white robes? In the morning, if I could remember it all, I would get my answers.                        
Postscript
     After meeting Elizabeth Moisan, chair, I joined this Writer's Group.  Since 2008, I have met on a weekly basis with talented, diversified writers, who are passionate about the adventure of writing. With them, through them, I have learned the invaluable art of "fine-tuning" the story, and much more.